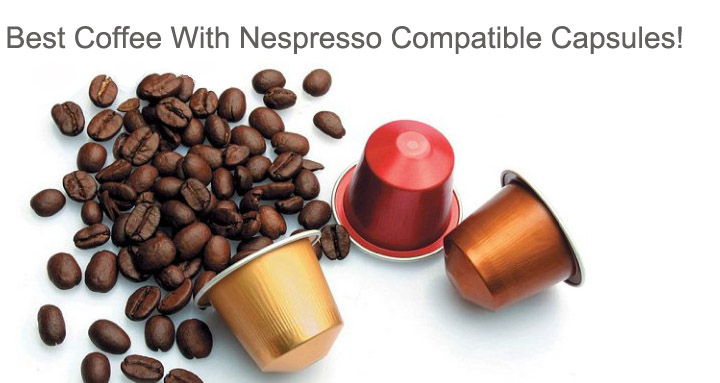 Do you love coffee? Do you love the taste of NESPRESSO coffee? If so, then you'll love NESPRESSO compatible capsules! With a variety of delicious blends to choose from, you're sure to find the perfect cup of coffee for your taste buds. So why wait? Start enjoying the best coffee today with NESPRESSO compatible capsules!
According to THE GUARDIAN, 14 billion Nespresso capsules are sold every year through online and retail outlets.
Here, you get to know about NESPRESSO COMPATIBLE CAPSULES in detail.
But first, do you know,
"What is a COFFEE CAPSULE as compared to a COFFEE POD?"
NESPRESSO COFFEE CAPSULE VS NESPRESSO COFFEE POD
The fundamental differences lie in the materials used in both items.
NESPRESSO COFFEE CAPSULES are:
Cylindrical-shaped and vacuum-packed capsules.
They are packed using aluminum or plastic
Some are compostable; others are not
NESPRESSO CAPSULES are not compatible with all types of other company coffee machines
NESPRESSO COFFEE PODS are:
Disk-shaped with 2 sides
Packaged using paper
Compatible with many machines that have a filter
Bio-degradable.
Now, you know the difference.
Let's move on towards differentiating between ORIGINAL AND COMPATIBLE capsules.
NESPRESSO ORIGINAL VS COMPATIBLE CAPSULES?
NESPRESSO initially launched its ORIGINAL COFFEE CAPSULES to be used in its ORIGINAL-LINE COFFEE MACHINES.
The company was the EXCLUSIVE SUPPLIER with PATENCY on machine and capsule-making.
With the expiry of patency, now other reliable coffee providers are providing high-quality NESPRESSO COMPATIBLE CAPSULES.
WHAT ARE NESPRESSO COMATIBLE CAPSULES?
Each coffee capsule may have 5-7 grams of FINELY grounded coffee and gives a single serving of coffee.
The sealed capsule retains the original coffee aroma compared to a coffee pack that has been opened and has lost its freshness.
This high-quality taste combined with a fast-brewed coffee makes such coffee capsules an expensive sought-after item.
Some are refillable, thus saving the buying cost.
You should know the process of using such NESPRESSO COMPATIBLE CAPSULES to enjoy them to the fullest in the form of a perfect coffee.
HOW TO USE NESPRESSO COMPATIBLE CAPASULES?
To have an excellent cup of coffee in no time, you should be aware of how to use a NESPRESSO COMPATIBLE OR ORIGINAL CAPSULE in your NESPRESSO ORIGINAL coffee machine.
For this NESPRESSO METHOD, the capsule is inserted into the machine. The top of the capsule gets pierced.
Some machines make a single large hole, while others make three smaller holes. You activate the machine, causing it to pump hot water under high pressure into pierced holes.
The flat bottom of the capsule ruptures consequently, as it is made of thinner foil than the rest of the capsule.
The base on which the capsule sits is called a capsule holder, which has multiple raised squares. These cause the foil to rupture at these points.
Your brewed coffee, at this moment, exits this capsule through the ruptured holes and finally flows through a funnel nozzle into your coffee cup.
NOTE
A safety pressure release valve is established inside the brewing chamber if your standard coffee exhaust path becomes blocked.
This valve prevents an explosion from occurring like pressure cookers used for cooking food.
COMPATIBILITY CHECK
When you are buying NESPRESSO COMPATIBLE CAPSULES for your coffee machine, check the compatibility by some key points:
Double-check the small print on your compatible capsules. Most capsules aren't compatible with PROFESSIONAL OR some latest Vertuo NESPRESSO machines.
Take your time inserting the pod/capsule as NESPRESSO Compatible capsules can be shaped slightly differently from Nespresso-branded capsules.
Check the perfect line-up of your capsule in the machine.
If a problem occurs with incorrectly inserting the compatible capsule, you should not forcibly close the machine.
You might be thinking, "Where to look for NESPRESSO COMPATIBLE CAPSULES?"
KOFFEE-EXPRESS, A RELIABLE SOURCE!
Why go to unreliable coffee suppliers?
Looking for NESPRESSO COMPATIBLE CAPSULES for your NESPRESSO MACHINE?
KOFFEE-EXPRESS is the right place for you, a famous provider of high-quality coffee products with its vast coffee flavor collection.
Miscela D'Oro Nespresso Compatible Capsules are available here with FREE SHIPPING.
The Flavors at koffee-express range from sweet, delicate to intense, depending on your personal choice. These include:
Miscela D'Oro Nespresso Compatible Capsules, Red
Miscela D'Oro Nespresso Compatible Capsules, Purple (Intenso)
Miscela D'Oro Nespresso Compatible Capsules,Gold
Miscela D'Oro Nespresso Compatible Capsules, Black (Cremoso)